Crosslinking to Treat Keratoconus
This procedure is used to treat Keratoconus Disease before it advances to stages that would need a cornea transplant. Crosslinking is the first method of treatment in most countries throughout the world that have the technology available to them. In Europe, it is recommended for children after age 15 when Keratoconus Disease is the first diagnosed. In the United States, it is FDA approved. A complete evaluation with Dr. Garcia is needed to determine if you are a candidate for this FDA approved procedure.
The cornea tissue fibers are like a net. In Keratoconus this net of fibers is fragile and the cornea will deform becoming steep. This decreases the patients quality of vision. Crosslinking stiffens the fibers by using a proprietary mix of Riboflavin activated with UV light. The goal of this treatment is to prevent progression of the diseased cornea. This treatment has been performed in other countries for more than 10 years.
At OMNI, we have provided this option to patients in a conservative manner and have seen excellent results.
For more information or a consultation, please visit the Keratoconus Institute of Maryland website, or call (410) 324-MDKC (6352) today to schedule your appointment.
A Success Story Close to Home!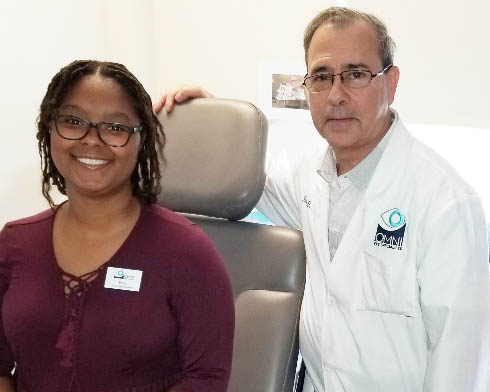 Dr. Garcia performed crosslinking on a Keratoconus patient that just happens to work for OMNI! Brea is loving her new "eyes" and vision. As you can see in the photo, Brea is all smiles!
If you or someone you know has symptoms of Keratoconus, bulging of the cornea and vision loss, please reach out to OMNI and ask for Brea, she will be more than happy to answer any questions and tell you about her experience having this eye opening procedure at OMNI, and yes, pun intended.